Not far from the Midgard culturehistorical center, lies Gildehallen, a reconstruction of the Vikings great feast hall.
Gildehallen opened July 6th 2013. It is made in the way you´d think it would look like, since a ballroom like this never have been found. But they have found imprints of halls like these at Borre, and it becomes clear that Borre was a center of power, even before the Vikings ruled. Several of these were mentioned in both Islandic and English sagas.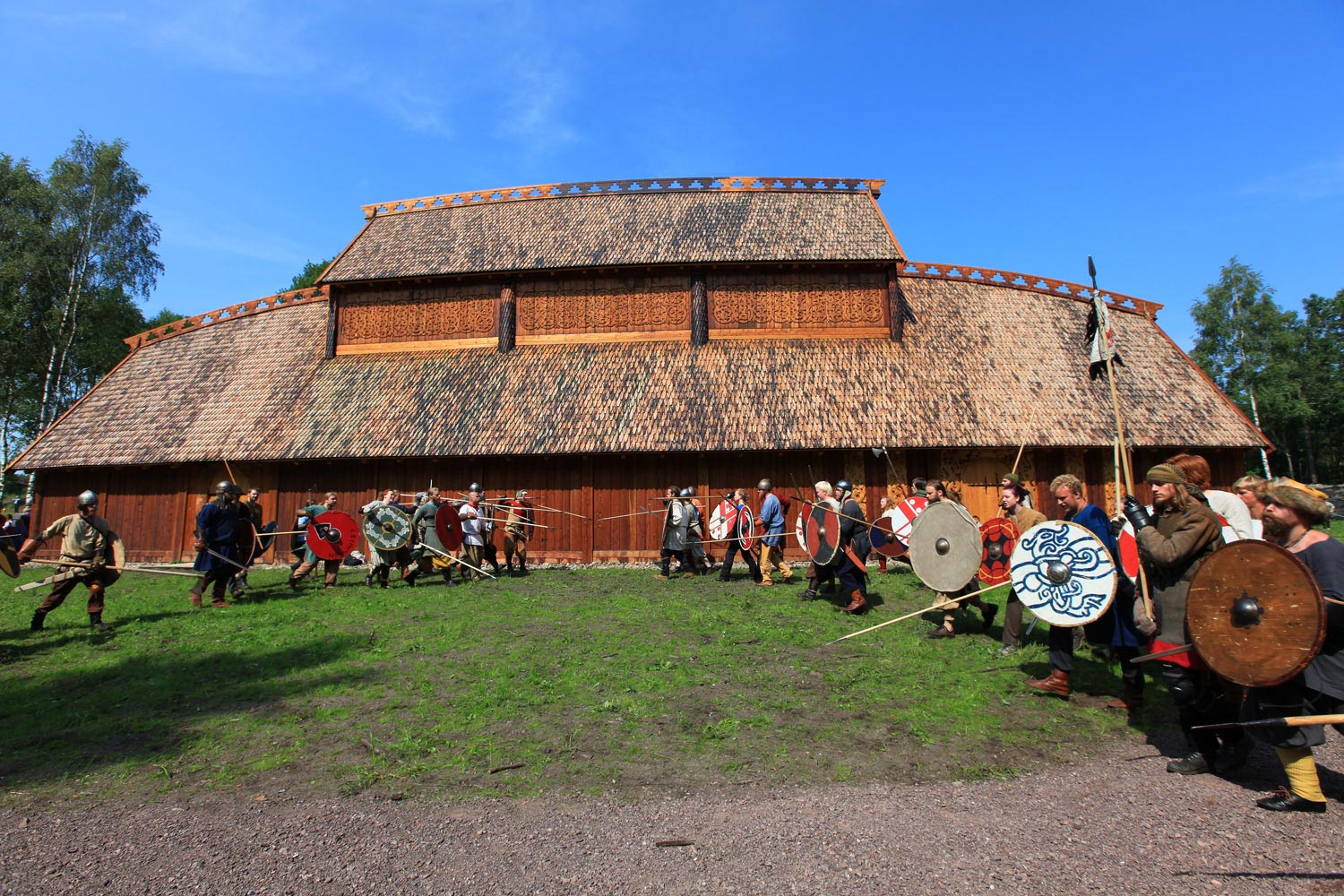 Vikingslag på åpningsdagen av Gildehallen.
The whole construction is covered in wood with beautiful carvings. The result of Voldskogen in Borre is a construction unique to the world, in addition to being something nice to look at, it is also interesting to those interested in history.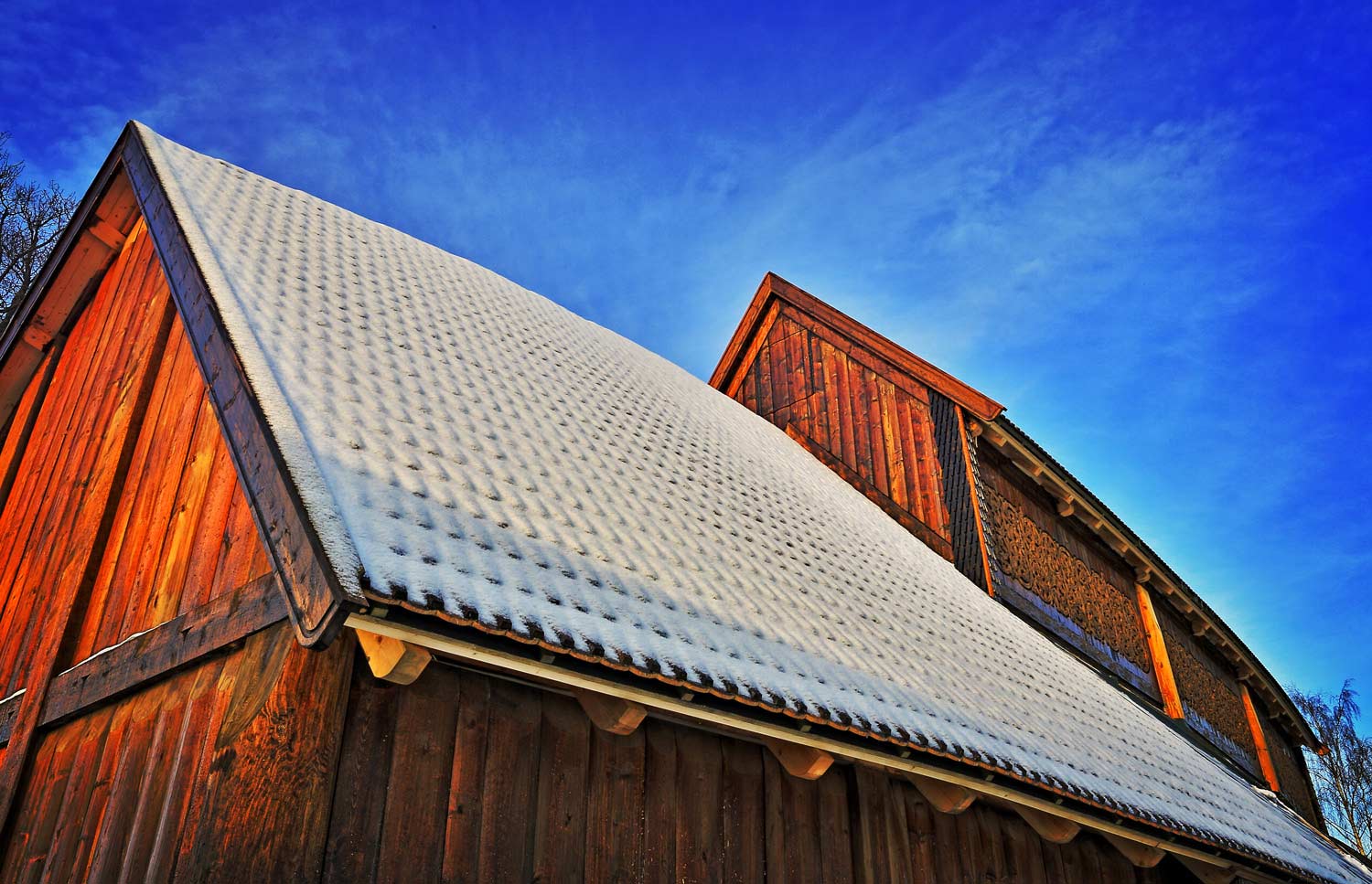 The impressive gildehallen stands 13 meters tall at its tallest. Both the exterior panel and the shingle-covered roof are carefully made and inserted with tar. A beautiful roof ridge crest decorates the roof, and the main entrance has a beautifully carved portal.
On the inside, the hall has a fireplace, benches and a table with hand carved legs. Odin´s ravens, Hugin and Munin has found their place among the beams.The beautiful carvings on the poles in the middle of the hall each tell their own story, which together makes the
hall´s history.
The history told were already myths for the Vikings, and it is believed that they were used as decoration in halls like this one. The stories tell us about the Yngling king kin, born from gods and giants, that in the end takes over the throne in their own gildehall in year 822 after Christ.
---
Rett ved det monumentale gravfeltet på Borre har arkeologene funnet rester av høvdinghaller.
---
The carvings are done by hand (but machines were used to extend the depth), and is based on the Vestfold style, mainly based on findings from Oseberg. Bjarte Aarseth is an educated carver and work at the Vikingship house in Bygdøy, and he recreates wooden Viking art. He has constructed and drawn the carvings in the gildehallen at Borre.
We know this kind of halls from the 300s and forward from the archeology. They usually consist of a large room where the fireplace was the main source of lighting and heat. It is not clear what the gildehallen was used for. Was it a place for praising of the Gods, or also for Christian rituals considering the height of the buildings?
The items found at these sites suggest that the place was used for official purposes. Normal findings are exclusive glass, weapons, gold, and other items that was not used in everyday life. The hall can be seen as a ceremonial room. The findings from the halls are consistent when it comes to traces of seats, meals, and drinking rituals. It is very probable that they held weddings and funerals, where inheritance and land was transferred to new generations.
---
Source: Midgard Vikingsenter, Vestfold Fylkeskommune, og Wikipedia
Innholdet er tilgjengelig under Creative Commons-lisensen Navngivelse-Del på samme vilkår