KOSTER ISLANDS
Sweden's most beautiful archipelago








Just west of Strömstad is a magical place with hundreds of unique islands, islets, and skerries called the Koster Islands, or Kosteröarna. . Take the Koster ferry from Strömstad and experience the beautiful islands of Koster in person.
As one of Sweden's sunniest places, along with its amazing beaches and granite cliffs, the islands have become a popular destination and a go-to for artists, nature lovers, divers and boaters.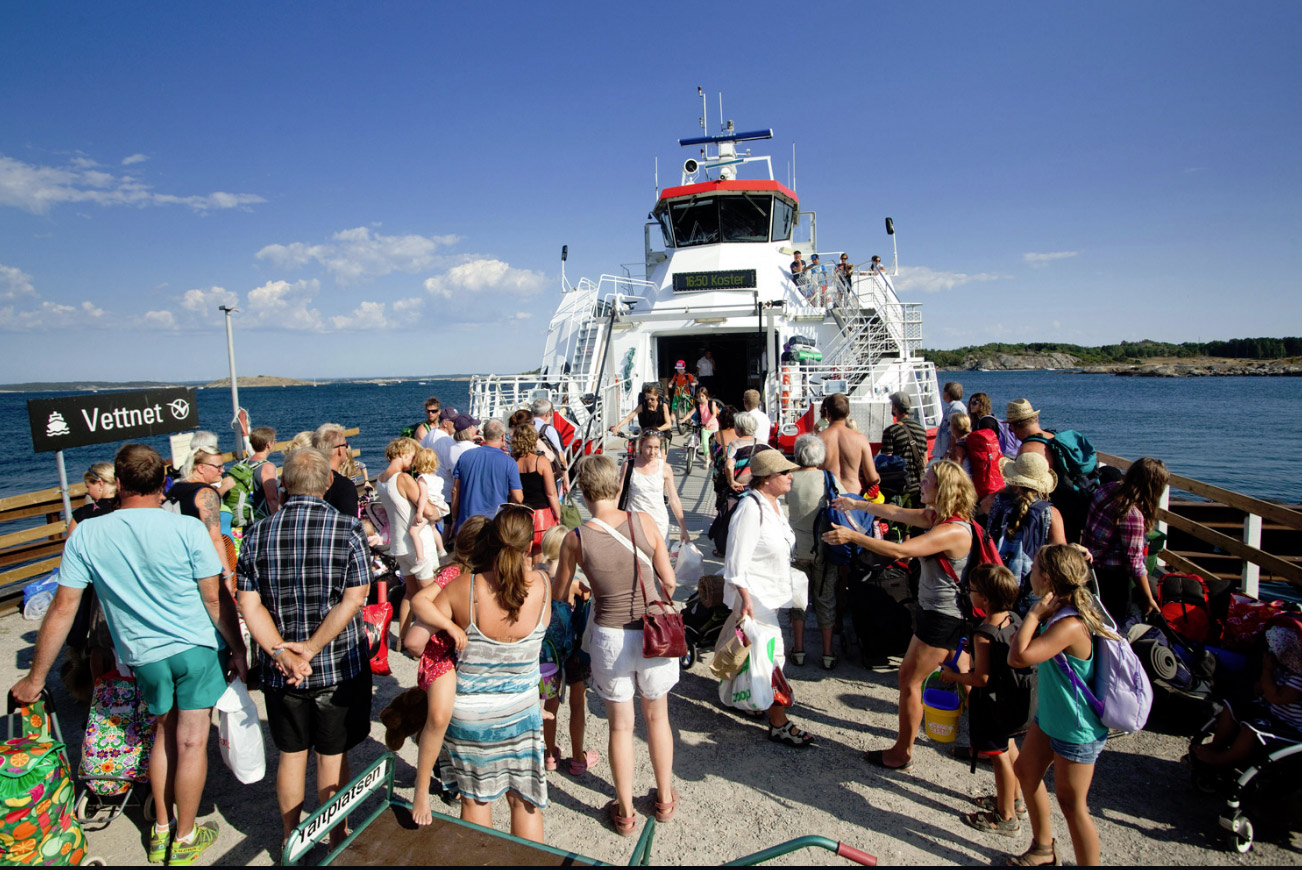 Tourists, cabin-goers, and swimmers are brought to the islands by ferry from Strömstad.
Koster by bike!
Bring your bike, but make sure you check out South Koster as it is especially lovely while riding your bike. North Koster has a more vigorous and rugged landscape, which is perfect for hiking trails. Outside the islands is Sweden's largest seal colony, as well as Sweden's westernmost lighthouse, Ursholmen.
Your bike is your best friend on the car-free Koster Islands. One of the best seasons to get well acquainted with the Koster Islands from your bike is autumn.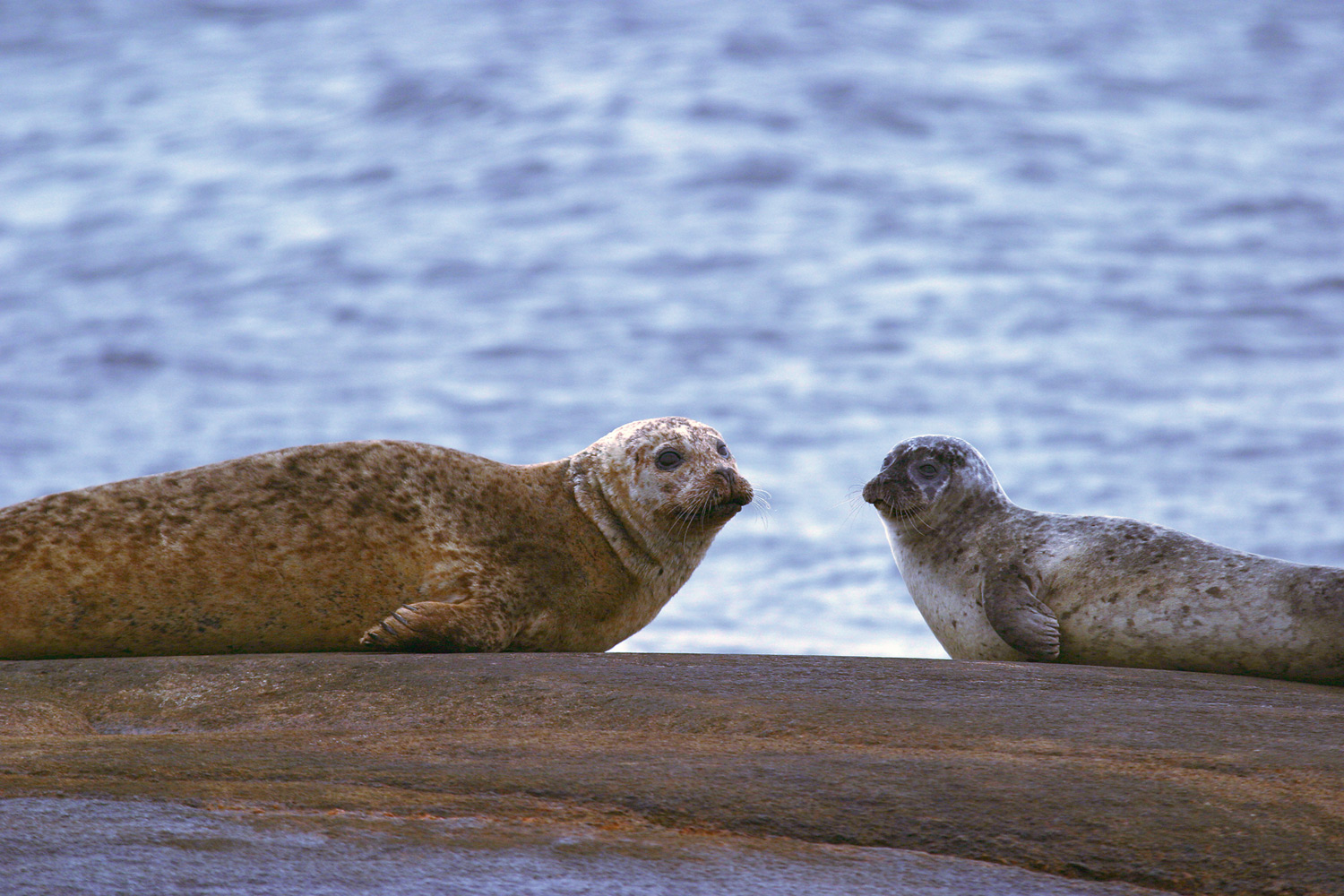 Visit some seals
For hundreds of years, the Koster population has worked within agriculture and cultivated the land and the forest into fields, meadows, forests and buildings. With its close proximity to Skagerrak, fishing and seamanship has also been a significant industry for hundreds of years. n fact, since the 17th century, Koster has been a sought-out area for lobster, which was later an exported product to Holland, Belgium, and other European countries.
Koster's unique nature and genuine archipelago environment
You won't believe it until you've
seen it yourself
---
Amazing nature, old houses and buildings, meadows filled with rare orchids, sandy beaches, and warm coastal stones and slabs – can't beat this!
---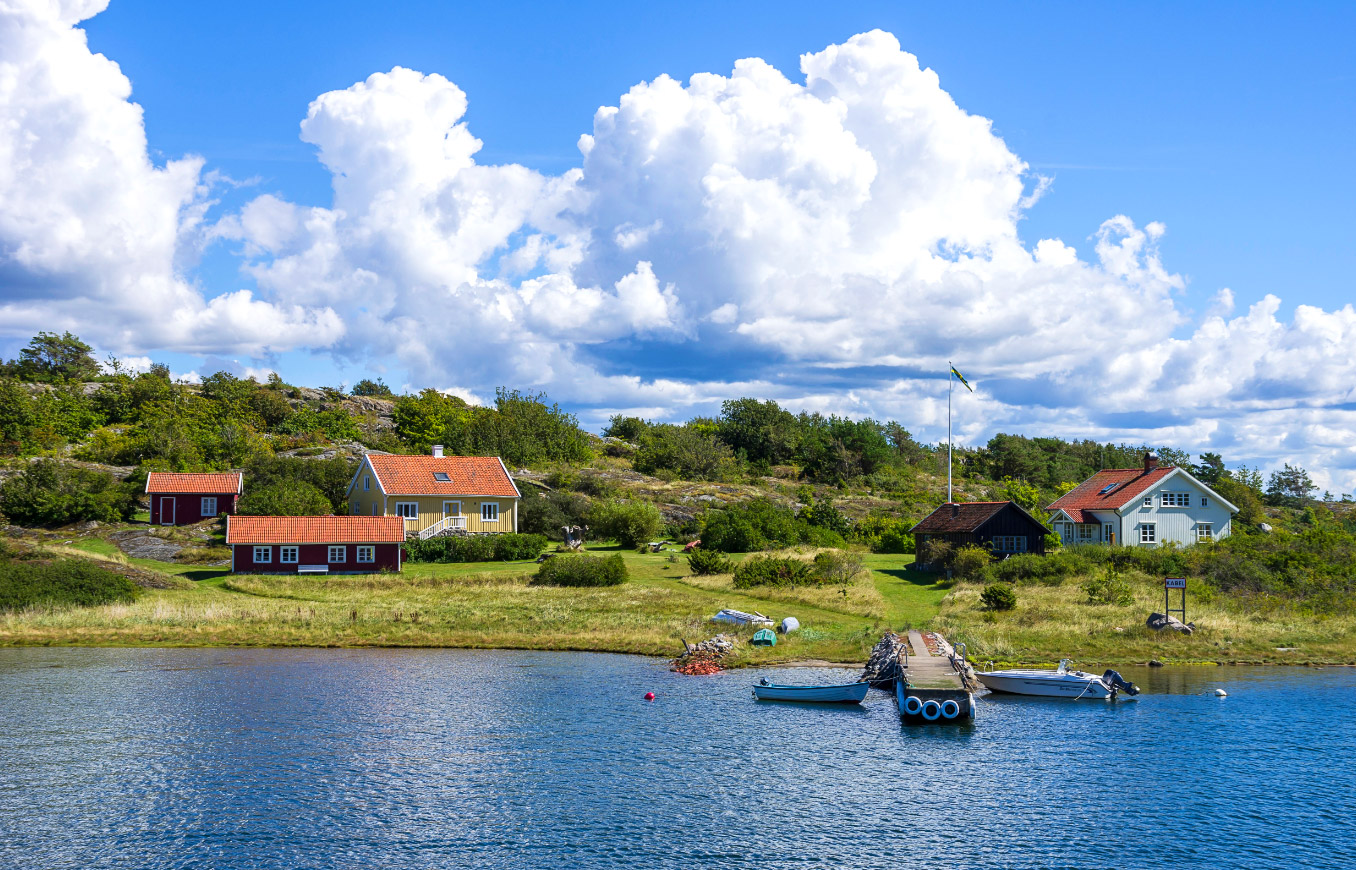 View of cottages near Ekenäs, South Koster island.
In the mid-18th century, herring came to the coast in large quantities, and the herring fish industry became the most important industry in Koster for almost 200 years. However, at the beginning of the 20th century, shrimp fishing became popular, and it has since become the most important industry in Kosterhavet (Koster Sea). It is unclear when the first fishermen settled on the Koster Islands or when the islands were first permanently inhabited, but sources indicate that people lived on the Koster Islands during the 1300s.
There is evidence from the end of the 1300s about seven farms; Nordkoster, Långegärde, Upper Kile, Lower Kile, Röd, Brevik and Kyrkosund.
During this time, Koster belonged to the southeastern part of Norway and Koster was ruled by the Grimsø Monastery in Skien. Tax was paid in the form of agricultural products from Koster to the Grimsø Monastery.
---
There are only a few places in Scandinavia with such immense orchid meadows like the ones found on South Koster.
---
The location of the Koster Islands brings mild winters and sunny hot summers. "The sun shines bright above Koster" is an old expression that is certainly true. In addition to the welcoming climate, the soil is rich with limestone, resulting in biologically diverse flora. There is not a single place in Bohuslän with such large orchid meadows as those found on South Koster. The Koster Islands are home to several rare plants, and a considerable amount of these species are only found on Koster, making Koster one of Sweden's most biologically diverse regions.
The Koster Islands have a rich wildlife. Most people are probably surprised when by the large seal population here. Large groups of seals are usually seen at the shores and islets southwest of South Koster. Deer, hares, and foxes are also found in large numbers on the Koster Islands. Seabirds, as well as migratory birds, are abundantly represented. They even use the Koster Islands as an "airport" as their first stop in Scandinavia on their journey from mainland Europe in the spring, or as their last stop in the fall before they cross Skagerrak and continue south again.
Kosterhavet Nationalpark
Kosterhavet National Park is a national park off the coast of Bohuslän in Sweden, and houses a unique ecosystem of 12,000 species (about half on land and half in the sea). Kosterhavet National Park was initiated in 2009, in an attempt to preserve and secure the vulnerable marine life in Kosterhavet (Koster Sea) and the unique nature of the Koster Islands. The national park includes 38,878 hectares around the Koster Islands, along Strömstad and Tanum municipalities in Västra Götaland county. The park also borders Ytre Hvaler National Park on the Norwegian side. The islands are separated from the mainland by the Koster Fjord, a 247-meter (810 feet) depression that connects to the Norwegian trench.
Outside the islands is Sweden's largest seal colony, as well as Sweden's westernmost lighthouse, Ursholmen. Foto: Kjell Holmner
This is Koster
Koster is a group of Swedish islands, 10 kilometers (6.2 miles) west of Strömstad. North Koster, with an area of 4 kilometers² (2.5 miles²), has about 60 permanent residents, while South Koster, at 8 kilometers² (5 miles²) has around 240 residents. Around these main islands are a number of smaller uninhabited islets and skerries.
The islands are Sweden's westernmost place with permanent resident. In addition, the islands are popular vacation destinations, and the number of residents increases almost ten times during the summer. A large portion of the tourists come from Norway. The islands have also become famous for the Kosterbåt (Koster boat), which is a double ender.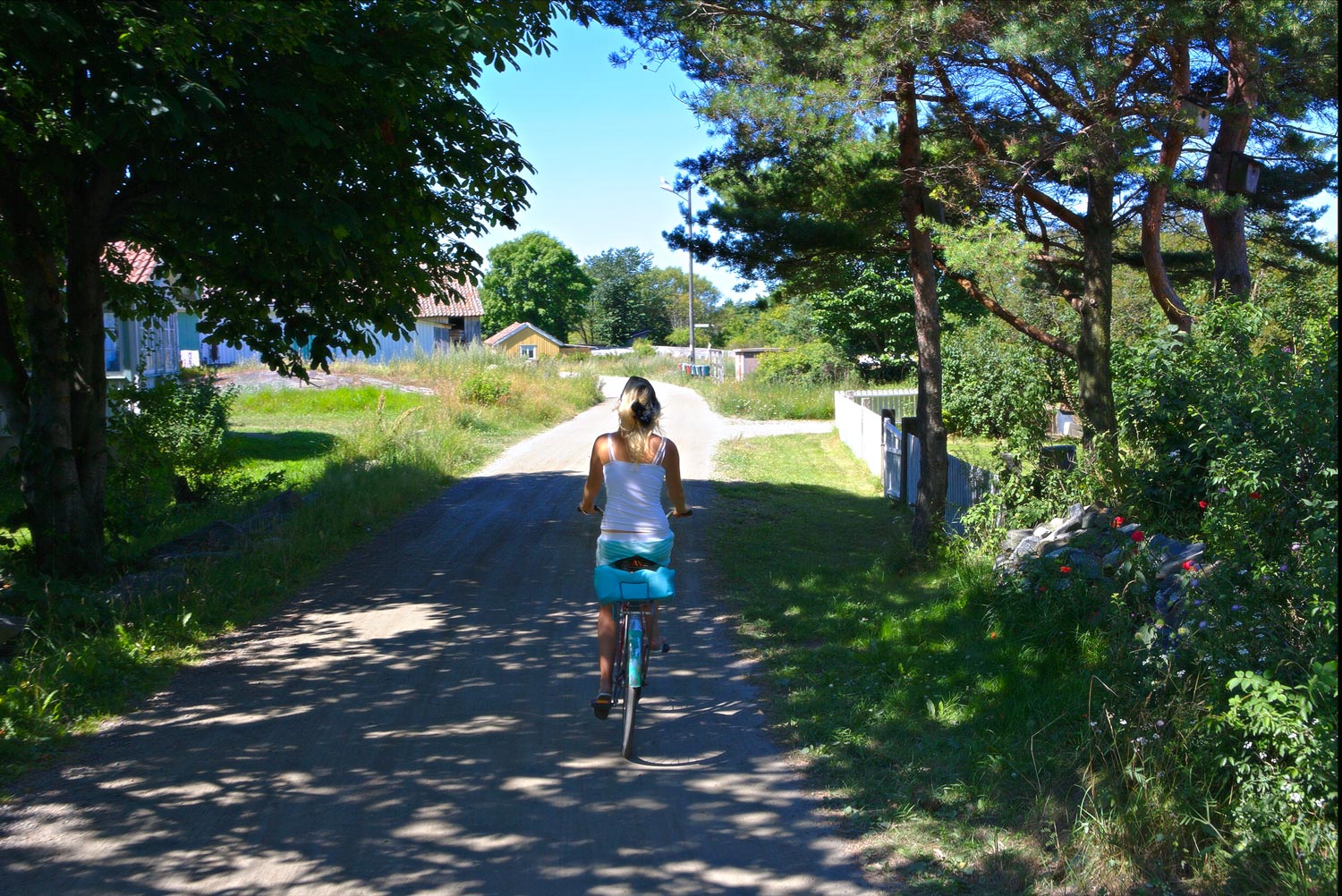 Sweden feels good. Bikes enable you to really explore and find the hidden spots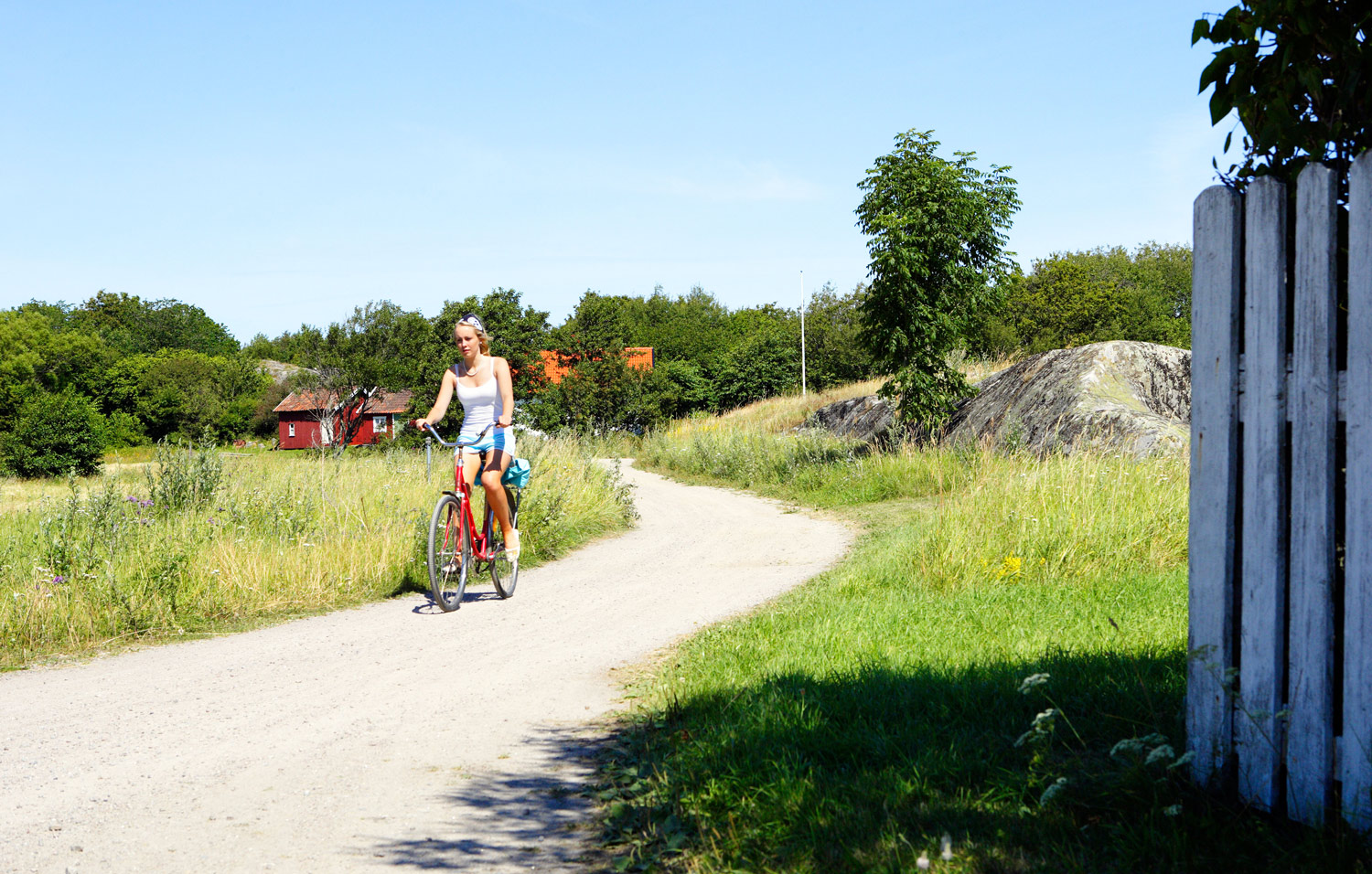 The roads are quiet, and this is an exceptional place to explore by bike.
Guest ports are located in Kostersundet (Koster Strait) on North Koster and in Vettnet. Ekenäs welcomes most visiting boats on South Koster. Kyrkosund and Brevik are smaller guest ports with only a few guest spots. Koster has daily public transportation by boat to Strömstad. The boats arrive Västra Bryggan and Vettnet on North Koster, as well as Långärde, Ekenäs and Kilesand on South Koster. Connections to the mainland are good with 16 ferry departures daily from Strömstad, a crossing of around 45 minutes. Private cars can be parked at the car park just outside the center of Strömstad from where buses run free of charge to the square where the harbor lies.
Naturrum is the visitor's center for Kosterhavet National Park. At the visitor's center you'll find information about the national park, the aquarium, as well as tips and advice on how to get the most out of your visit on the Koster Islands.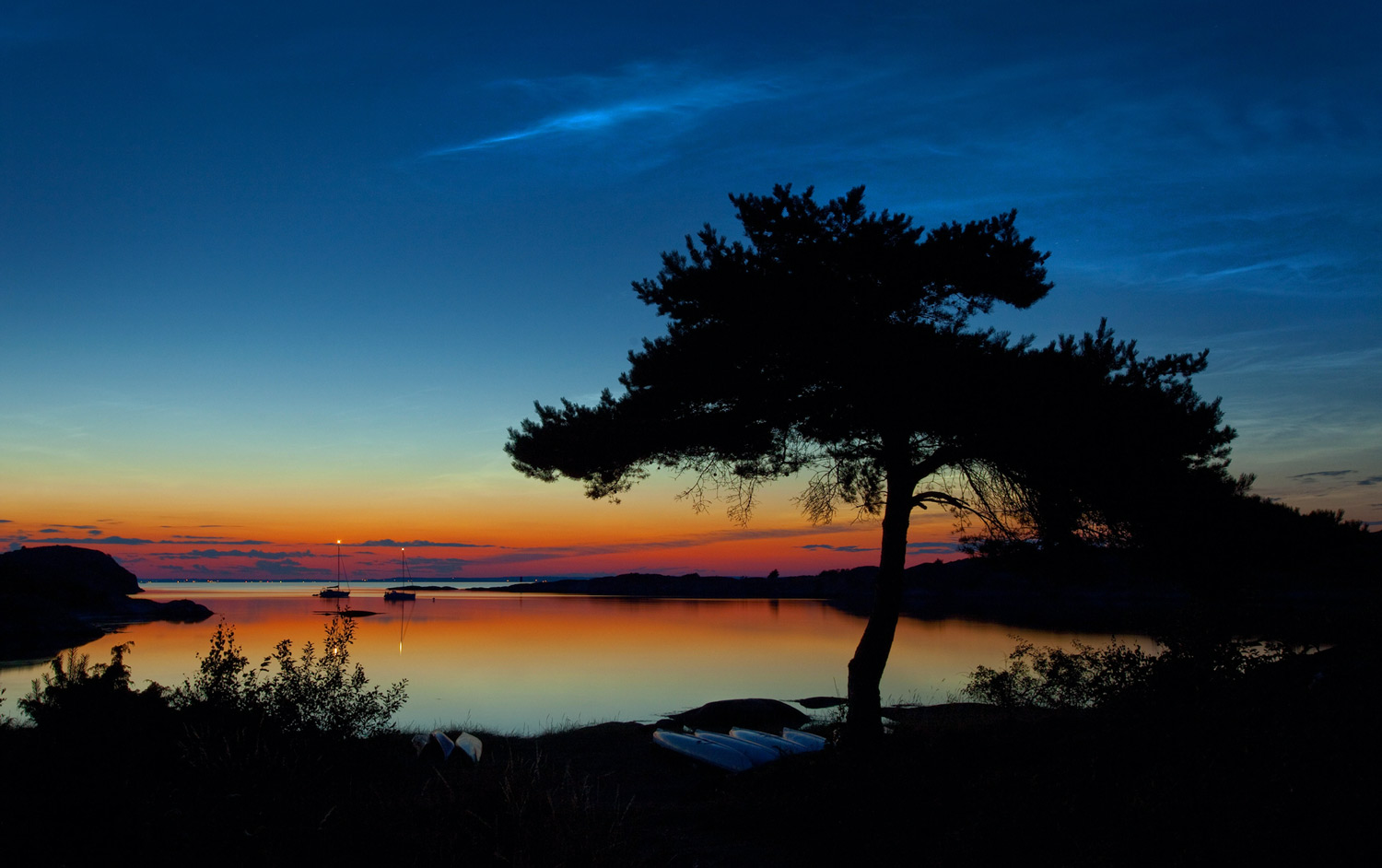 The Koster Archipelago by night. Praised by artists and writers, Scandinavian summer light is special.
Communities
South and North Koster are communities with a permanent population of around 350. There is a school, sports hall, shops, church and galleries where handcrafts and arts are exhibited. Both farming and fishing are important, and already during the 1600s Koster exported lobster to Holland. There are several small harbors, popular with sailors from both near and far. Rooms can be rented from the Ekenäs Hotel or from private homes or cabins. There is also a campsite on North Koster.
An electrically driven ferry operates constantly between the two islands, a distance of 58 meters. As one moves inland, farmland, woods and rich vegetation becomes apparent and there are many trails. South Koster has a network of roads and paths, which can be explored by bicycle or in small golf-buggies, both of which can be rented. On North Koster it is also possible to rent small boats. Restrictions regarding the right of access, Allemansrätten, forbid open fires and camping is only allowed at the designated campsite. Private cars are not permitted.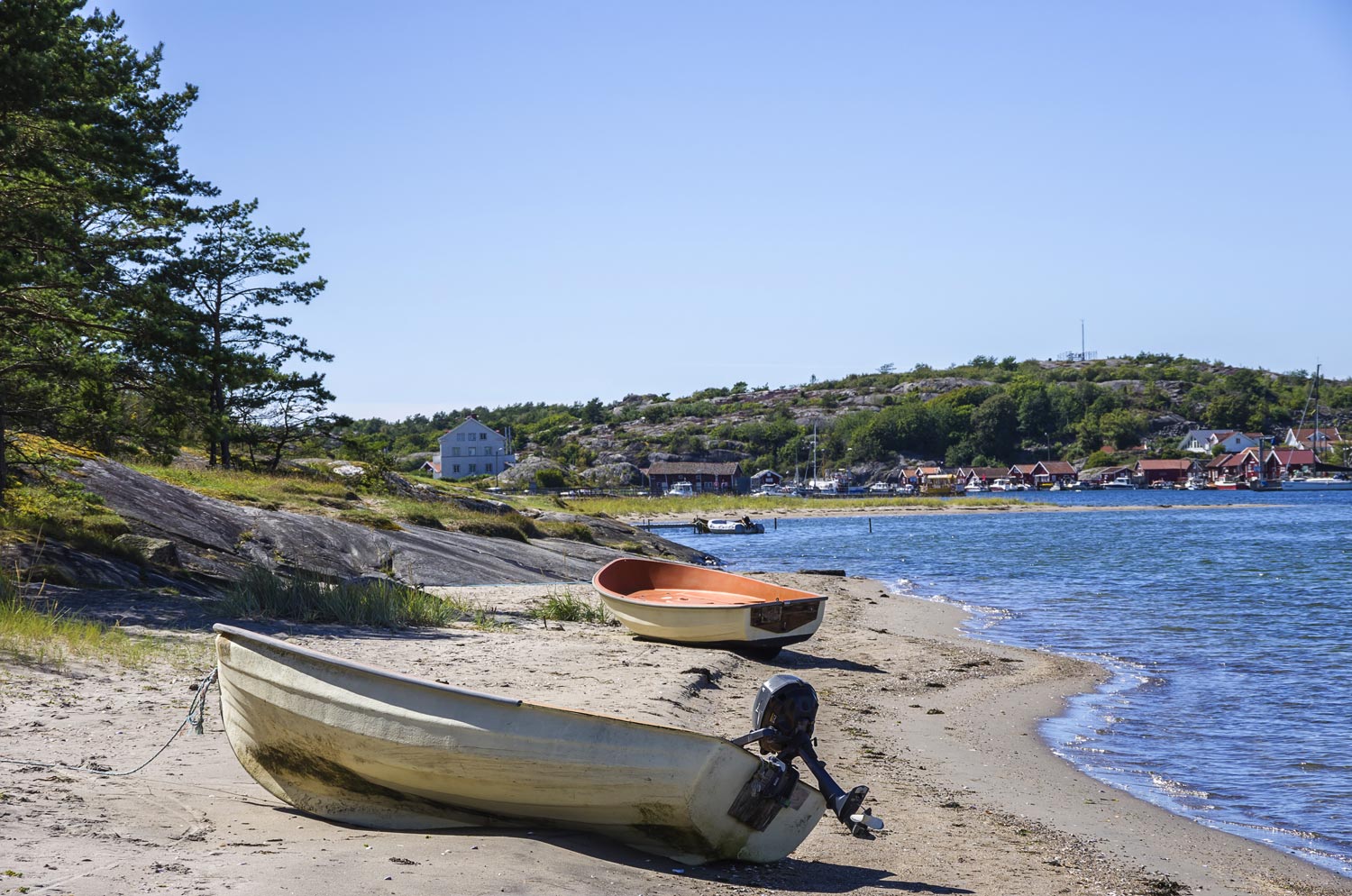 Snow Lake, located in the heart of the Karakoram mountains
Activities and amenities in the heart of the Skagerak sea
---
There are also other great activities and amenities worth checking out, including coastal trails, bike trails, miniature golf, and camping. Showers and toilets are available at the guest ports. During the summer, there are two grocery stores that are open. The grocery store on South Koster is open all year round. Kiosks, interior and craft shops, restaurants and cafés are also found on the Koster Islands, but most of them are only open during the summer months.
Source: Wikipedia, Kosterhavet National Park, and the book, Bohuslän, from Bilda Forlag.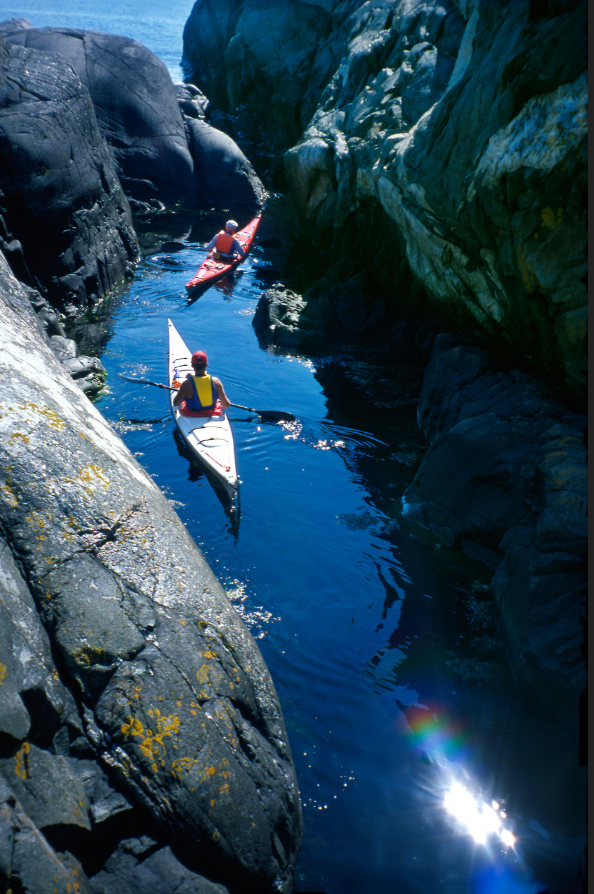 Kayakers exploring the Koster archipelago Northern coast of West Sweden
Hotels, Summer House, Cabin, Cottage, Resorts, Bed & Breakfast...
Accommodation
Enter your dates and choose out of 930 properties!